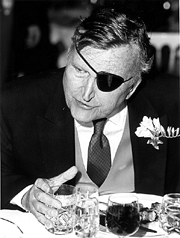 About the Author
Born in 1920 of immigrant parents, William Jovanovich attended public schools in Denver, Colorado, and, later, three universities where he studied English literature. He served four years in World War II as an officer in the U.S. Navy. He and his wife were married for over fifty years when he died in 2001. He is survived by his wife, their three children, and six grandchildren.
At the young age of thirty-four, he began his meteoric rise in publishing when he was elected president of the book publisher which, in 1970, was renamed Harcourt Brace Jovanovich (HBJ). He headed the company thirty-five years and took it from $8 million in sales with 125 employees to $1.7 billion with a staff of 11,700.
As their editor as well as publisher, he worked with Mary McCarthy, Hannah Arendt, Milton Friedman, Charles A. Lindbergh, Diana Trilling, Milovan Djilas, Eugene McCarthy and others. Also under his direction, HBJ was renowned for its publication of exceptional translations of important Serbian works.
William Jovanovich was a Regent of the State of New York and a Regent's Professor at Berkeley. He was an Honorary Citizen of Vinci and a Knight of Malta and held eight honorary doctorate degrees. He wrote six books, including Serbdom, and a memoir, The Temper of the West.